Step 1 : Determine your size
Nous vous recommandons de mesurer la taille de votre doigt et non celle de votre bague. L'objet utilisé pour la mesure doit être bien ajusté pour que la taille soit correcte.
La taille d'un doigt varie en fonction du moment de la journée et de la température. Nous conseillons d'éviter de mesurer vos doigts lorsqu'ils sont trop froids ou mouillés au risque de sous-estimer leur taille.
Munissez-vous d'un ruban et entourez-le autour de la base de votre doigt. Pour que le port de la bague soit confortable, nous vous suggérons de mesurer également la taille de votre doigt au niveau de l'articulation.
1 – À l'aide d'un stylo, marquez le point où le ruban se croise.
2 – Mesurez la longueur obtenue en millimètres à l'aide d'une règle. Cette mesure correspond à la circonférence de votre doigt.
3 – Choisissez la mesure la plus proche sur le tableau ci-après pour identifier votre taille de bague.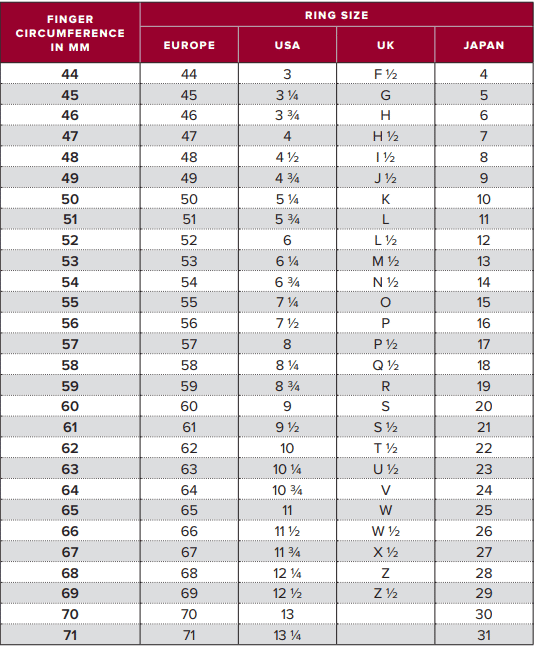 Step 2 : Determining the size to offer
If you wish to offer a ring as a gift, borrow a «wedding ring» model from your loved one and refer to the table below.
Please place the ring on the circles below. The black line must appear in its entirety. If the ring is between two sizes, Goralska recommends you to choose the larger one.
Before printing this guide, please follow these instructions:
For best results, you must check in the print settings that the «scale paper» option is set to «no».
The Goralska ringer should be printed on a full A4 sheet. To check that the banding paper has been printed correctly, measure the sample below with a ruler. It must measure exactly 2 cm.
Step 3 : Choose your size
You have now determined your size or the recipient's size ring. As previously stated, the sizes of the Goralska rings may vary depending on the model.
For «small» rings models, Goralska advises to take the size indicated in the table of sizes.

For «medium» ring models, Goralska advises to take a size above the one indicated in the size table.

For «large» ring models, Goralska advises to take two sizes above the one indicated in the size table.